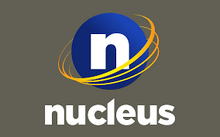 Nucleus was a Hooli project.
Season 1
Immediately after Richard declined Gavin's 10 million dollar offer Gavin compiled a group of engineers to reverse engineer Richard's product. The project was supposed to integrate Richard's Pied Piper compression algorithm into the whole sweep of Hooli apps. The project was way behind schedule but they successfully engineered a perfect Weissman Score of 2.89.
Season 2
After being beat by Pied Piper's revolutionary middle-out technology at TechCrunch Disrupt they invested into Endframe another middle-out compression company. Using the company's code they started developing a cloud based Compression platform similar to Pied Piper's.
Season 3
After Pied Piper's platform failed to succeed Nucleus was scraped.