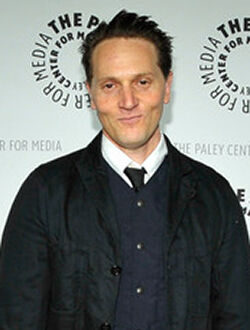 In film, Matt Ross (Gavin Belson) has worked with such directors as Martin Scorsese on 'The Aviator,' George Clooney on 'Good Night, and Good Luck,' Mike Newell on 'Pushing Tin,' Terry Gilliam on 'Twelve Monkeys,' and John Woo on 'Face/Off.' Other film credits include Mary Harron's 'American Psycho,' Whit Stillman's 'The Last Days of Disco,' and John Walsh's 'Ed's Next Move.'
On television, Ross played kind-hearted and deeply misunderstood polygamous Prophet of Juniper Creek, Albert "Alby" Grant, on HBO's 'Big Love.' He was also in TNT's 'Buffalo Soldiers' and the Stephen King miniseries 'Rose Red,' a role for which he gained 45 pounds. (To this day, he still believes that, perhaps, that wasn't the best idea he has ever had.)
Among his many other television appearances, Ross guest-starred on HBO's 'Six Feet Under' and 'Oz' and more recently was Dr. Charles Montgomery on FX's 'American Horror Story' and DA Jack Klein on Starz' 'Magic City.'
Ross' theater work includes Jez Butterworth's 'Mojo' at the Atlantic Theatre Company and James Lapine's 'Twelve Dreams' at Lincoln Center in New York City.
Ross wrote and directed the award-winning short film 'The Language of Love,' which premiered at the Sundance Film Festival. His first feature film as a writer/director, '28 Hotel Rooms,' premiered at the 2012 Sundance Film Festival and was released later that year.
Ross graduated from the Juilliard School and briefly attended New York University.[1]
Ross directed the episode Artificial Emotional Intelligence on HBO's Silicon Valley.
Other roles
References