'Silicon Valley' Profile: Bertram Gilfoyle
Bertram Gilfoyle is a Senior Security Architect and a main character in HBO's Silicon Valley.
Background
Gilfoyle lived and worked at the Hacker Hostel with Richard, Big Head, and Dinesh. He is pompous and purports to be good at system architecture, networking, and security. Gilfoyle often finds himself sparring with Dinesh about things such as their work efficiency, Dinesh's Pakistani ethnicity, Gilfoyle's religion along with other negligible matters.[1] Often Gilfoyle triumphs in these arguments or reaches an impasse with Dinesh. He is a self-described LaVeyan Satanist, and bears an upside-down cross tattoo on his right arm. His persona is an apathetic badass programmer that has libertarian tendencies. To say he is odd is an understatement.
Gilfoyle is originally from Canada and was an illegal immigrant until Articles of Incorporation, in which he gained a visa after being put under pressure by Dinesh.
Gilfoyle holds Degrees from McGill university and MIT , unknown subject ( Probably Computer Engineering or Electrical engineering due to his insane hardware capabilities ) . ( source : Pied Piper site . )
Gilfoyle is also an ex-drummer And Played in many core bands in Toronto .
Relationships
Gilfoyle has a tectonic relationship with his girlfriend named Tara, a fellow member of the LaVeyan Satanists. His relationship with his mother is negative and lacks trust. His mother has betrayed him in the past as evidenced when Gilfoyle refers to her as a "backstabbing bitch".
Memorable Quotes
Gallery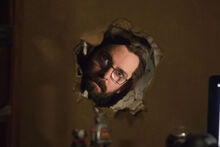 Videos
References
Community content is available under
CC-BY-SA
unless otherwise noted.